If Brad Thompson was looking for reasons to get out of drag racing, he's had plenty.
A life-threatening accident in a front-engined Top Fuel Car nine years ago didn't do it. And neither did a horrific fire in his Funny Car just two months ago.
So there he was on Friday at Auto Club Famoso Raceway, making laps down the track as the 26th annual California Hot Rod Reunion kicked off its three day run.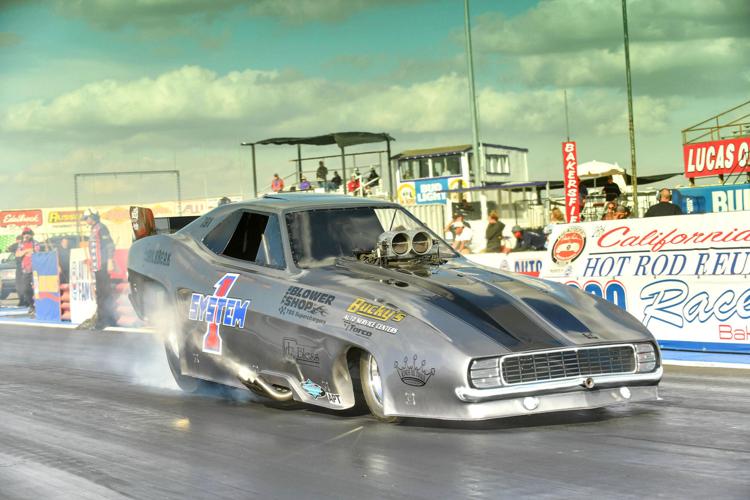 "I can't really say, except it's the love and passion for the sport said Visalia's Thompson on why he still races.
Thompson's wreck in the dragster came at Firebird Raceway in Boise during the Nightfire Nationals in August, 2008.
"Broken neck, fractured spine, broken sternum, broken shoulder and part of the car went through my leg," he said. "A lot went on."
Pieced back together via surgeries and the liberal use of titanium, Thompson was back in a car in just six months.
That was too soon and he reinjured his back on his first run when he pulled the parachutes.
But he was ready to go another six months later in and in 2010 he won the Top Fuel title at the National Hot Rod Reunion in Bowling Green.
Thompson switched to Funny Cars shortly after that and nine years to the day of his accident at Boise, came the Funny Car fire. At the same event.
"It was the second round of qualifying, the nighttime shot and at 1,000-foot I got hit with a baseball bat," he said. "(The car) nosed over and I was just about to step out of (the throttle) when it went bang. It backfired into the manifold and turned it into a combustion chamber so it set the nitro off and the manifold exploded, kicked the rods out. It was a bad deal."
The explosion blew the body into pieces and off the chassis and the entire car, as well as the trailing parachutes were engulfed in a bright orange fireball.
Covered in oil and unable to see, Thompson went back to basics.
"I went right back to my roots driving the dragster and being on fire in those and oiled in," he said "I didn't panic, kept it in the lane.
"I couldn't see and I didn't realize the body was missing because I couldn't see anything. When I finally got stopped is when I realized there was no body there."
The explosion and fire destroyed everything except the chassis and it also took a toll on Thompson.
"Part of the intake manifold came in, took my kneecap and twisted it around," Thompson said. "I'm not really sure what took my toe, bent it over backwards and broke it. "
The knee needs surgery but it it has to wait. Thompson had a car to rebuild and a race to run.
"You gotta get back on the horse, you gotta do it," he said. "You can't let that beat you. You have to be tougher than that. If I want to quit I'm going to do it on my own terms."
Bucky Austin offered up the body that was on his car at this year's March Meet at a good price (it needed repair from a fire) and Thompson and crew went about the task of getting the car race including, including extending the chassis 6 ½ inches to accommodate the longer nose on the '69 Camaro body.
Thompson was only going to go about half track on his first qualifying run on Friday, just to check things out, but the car was running so well he went 1,000 feet and still ran 6.02 at just 182 mph.
Thompson came back in the evening qualifying session and went 5.789, which put him solidly in the 16-car show at ninth.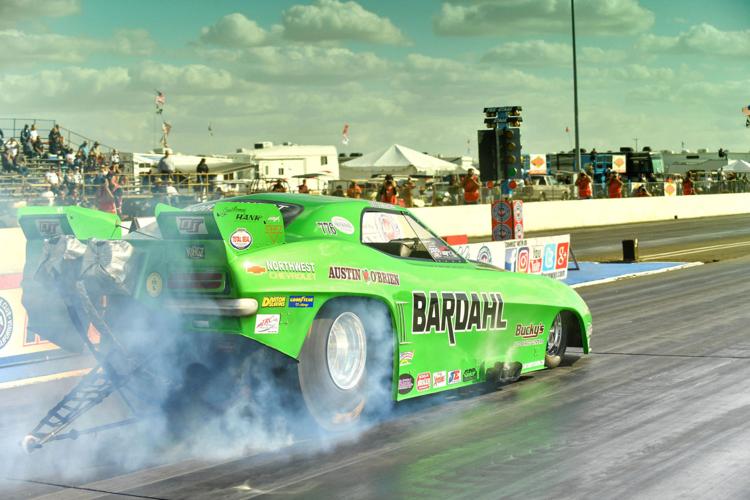 Bobby Cottrell led qualifying at 5.563 and 256.06 seconds, followed by Dan Horan, 5.662, and March Meet winner Ryan Hodsgon, 5.688.
The Funny Cars have one more qualifying session today at noon to set the field with first round of eliminations set for 4:30 p.m.
Top Fuel had one qualifying session Friday with just two good runs — a 5.692 at just 215 mph by March Meet winner Mendy Fry and a 5.74 at 243.06 by Adam Sorokin.
Top Fuel has two qualifying session today.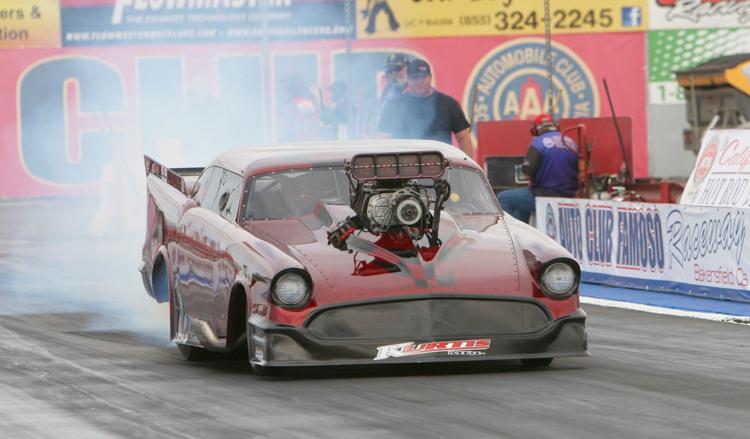 Mike Maggio led Pro Mod at 5.71 and 259.36 mph and Cottrell doubled up as he led 7.0 Pro at 7.002. Brendon Frye of Taft led A/Gas at 7.604.