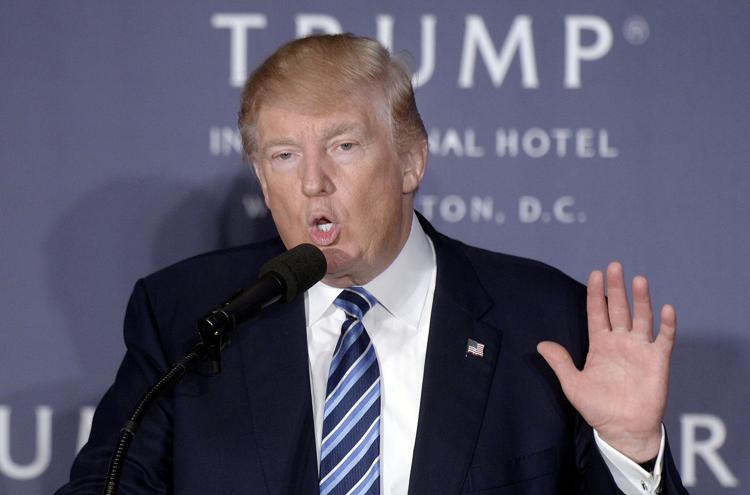 1 Our president might not know who is in charge of North Korea, Vanity Fair reports. In an interview on Tuesday's episode of "Fox & Friends" this week, Donald Trump seemed to reveal that he doesn't know that Kim Jong Un and his late father, Kim Jong Il, are two different people.
Trump refused to name the North Korean dictator by name, instead repeatedly using the moniker "this gentleman," as in past presidents have all "been outplayed by this gentleman."
"Does he really not know that when Bill Clinton was president, Kim Jong Un was 16 years old?" Jimmy Kimmel wondered Tuesday night. Donald Trump Not Knowing things has emerged as a late-night meme of sorts, with hosts previously wondering whether Trump knows who Frederick Douglass is and whether he only recently learned that Abraham Lincoln was a Republican.
"This is crazy," Kimmel concluded. "There's a 50/50 chance we might actually bomb South Korea if we're not careful." To help the president keep his Kims straight, Kimmel made a quick guide, with photos of Kim Jong Il, Kim Jong Un, and Lil Kim, just to be safe.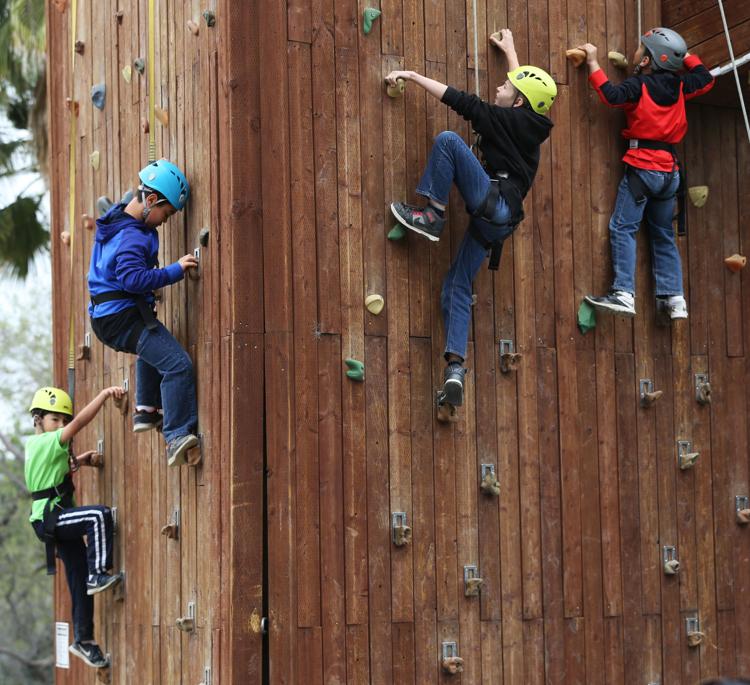 2 CALM is celebrating its 34th birthday with a bash from 9 a.m. to 4 p.m. May 13. Kids 12 years old and younger can get in for free with a paying adult.
The bash features wildlife presentations and give-a-ways, and at noon, Steve Martin's Working Wildlife will make a return appearance with animals from around the globe, a news release says.
Guests can visit CALM's new California Condors exhibit and the California Coast Room, which features moon jellies and an intertidal touch tank.
There is also free climbing on the 32-foot Condor Challenge climbing tower. Guests can also ride the train for just $1 per person.
For more information, call 872-2256, or visit CALM's website, calmzoo.org.
3 According to a new Yahoo-Marist poll, more than half of Americans admit to having used marijuana at least once in their lives. Because it's 4-20, we thought we would give you a little history of the evolution of marijuana.
2,000 BC: Ancient Egyptians start using the drug after it arrives from India, according to a 2012 published paper. Greeks and Romans also started using the marijuana plant for "its ropelike qualities as hemp" and "medical applications."
1914: U.S. took action to limit marijuana consumption, but scientists continued to study the drug to find out if it had medicinal properties, ABC News reports.
1936: "Reefer Madness," a fictional film chronicling crimes committed by a group of young people as a result of getting hooked on marijuana, is released.
1937: Federal Bureau of Narcotics Commissioner Harry Anslinger started a campaign against marijuana, which lead to the Marihuana Tax Act, which curbed "the importation, cultivation, possession and/or distribution of marijuana." It also restricted the use of marijuana as a recreational drug, ABC says.
1970: Then under the Controlled Substance Act of 1970, marijuana became an illegal Schedule 1 narcotic. It was put in the same category as heroin, according to ABC.
1974: Journalist Tom Forçade starts "High Times," a magazine for marijuana experts.
1992: Bill Clinton described his experience with marijuana as a student in England. He said, "I didn't inhale."
1996: ABC News says California became the first state to legalize medical marijuana under the Compassionate Use Act of 1996.
2012: Colorado and Washington become the first states to legalize cannabis for recreational use.
2017: Currently 29 states have medical marijuana and cannabis programs.
4 Speaking of marijuana, one family that has smoked together has stayed together.
Singer Melissa Etheridge said she feels closer to her adult children ever since she started smoking pot with them.
She admitted to smoking marijuana with her 20-year-old daughter, Bailey Jean, and 18-year-old son, Beckett, CNN reports.
"It was funny at first, and then they realized it's very natural [at the] end of the day," Etheridge told Yahoo. "It brings you closer. I'd much rather have a smoke with my grown kids than a drink."
According to CNN, the singer has been a cannabis advocate since she started using it medicinally after being diagnosed with stage two breast cancer in October 2004.
"When I used it as medicine, it became so clear to me that it has been maligned and misunderstood, and I really wanted to help people who are suffering," she said. "I mean, going through chemotherapy is suffering... and cannabis helps so many parts of just that."
5 So far, we've received two emails from readers letting us know they are sending fourth grader Lane Baylong, a student from North Carolina, information on what makes California so great.
Lane is working on a California state project and asked that we send him information about our state. The student is asking for postcards, maps, pictures or souvenirs. 
You can send your items to Charlotte Latin School, 9502 Providence Road, Charlotte, N.C., 28277.
If you decide to help Lane out, let us know what you did to contribute. You can send us a note or a photo of what you sent to photos@bakersfield.com.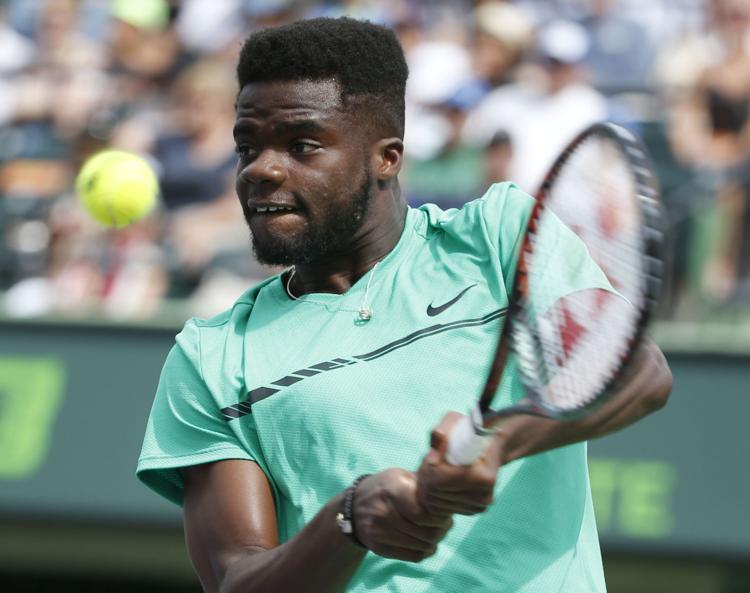 6 Remember Frances Tiafoe? He won the Bakersfield Open, a tennis tournament at the Bakersfield Racquet Club, in 2015.
Tiafoe is back in the news, but this time for his lack of focus at a Sarasota Open tennis tournament in Florida.
Tiafoe, his competitor, Mitchell Krueger, and the crowd couldn't help but hear grunts coming from beyond the court, and those sounds kept interrupting the match.
At first, commentator Mike Cation said the noises were coming from someone's phone.
"Well that is the most bizarre situation," said Cation, in a video on Twitter. "I don't know how to put this folks, but somebody's phone going off in the stands and it was an adult video."
Then he said, "I still hear it. It's still going. What is going on?"
Then he realized where the sex noises were coming from.
"No that's not a phone. That's an apartment across the lake."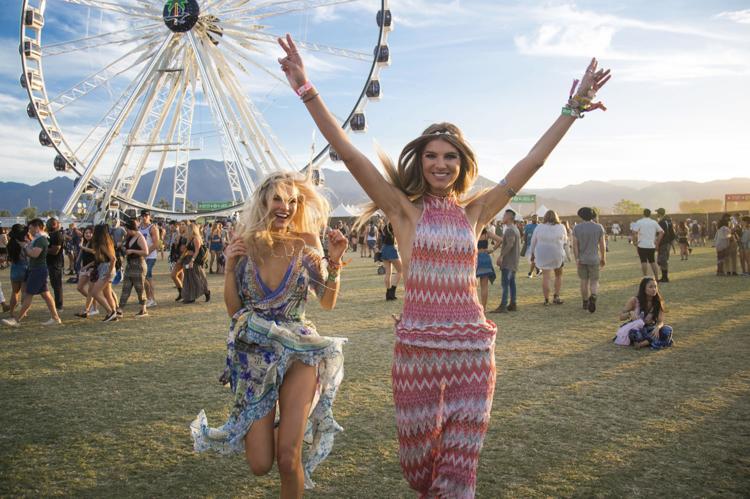 7 The Coachella Valley Music and Arts Festival isn't as chill as everybody thinks it is.
At the festival, several concert-goers discovered their cellphones had vanished. Together they activated the "Find My iPhone" app, and went on the missing cellphone hunt.
The signals led them all to one man. CNN says they chased him through the crowded concert site before security detained him.
Police ID'd the man as Reinaldo De Jesus Henao, and police found 100 cellphones.
CNN reports Henao is facing charges of grand theft and possession of stolen property.
But here's the real takeaway: Never come between a Coachella attendee and his or her Instagram.
8 Egyptian archaeologists hit the jackpot. They found eight mummies, 10 sarcophagi and a ton of figurines in 3,500-year-old tombs.
CNN says the archaeologists found the tombs in southern Egypt. The experts said the tomb belonged to a city judge named Userhat.
Excavation work is in full swing "to reveal the secrets of these two tombs," said the archaeologists.
9 The Alliance Against Family Violence and Sexual Assault presents the signature fundraising event, "Power of the Purse" from 6:30 to 9:30 p.m. April 28.
Attendees will have the opportunity to purchase designer purses, including Louis Vuitton, Prada, Kate Spade, Coach and Brighton products. The event will also feature many styles of jewelry.
"Power of the Purse" will be complete with signature cocktails and hors d'oeuvres.
A news release says 100 percent of the proceeds for the "Power of the Purse" event will support the Alliance's list of community services that have operated at the nonprofit since 1979.
10 Tye Trujillo debuted Monday night in Bogota, Colombia as the fill-in bassist for the band Korn.
The 12 year old is the son of Metallica bassist Robert Trujillo and will anchor Korn's South American tour, vulture.com reports.
Korn's regular bassist, Fieldy Arvizu, is unable to go on the tour for reasons unspecified in the band's Facebook announcement.
"We are bummed Fieldy can't join us on this run but excited to do a few gigs with a young player like Tye. We look forward to welcoming our brother Fieldy back when we return to the States in May."
Tye will be able to see Colombia, Brazil, Argentina, Chile and Peru on the tour, which began Monday.
Compiled by The Californian's Elizabeth Sanchez and Robert Price.