MY SUNDAY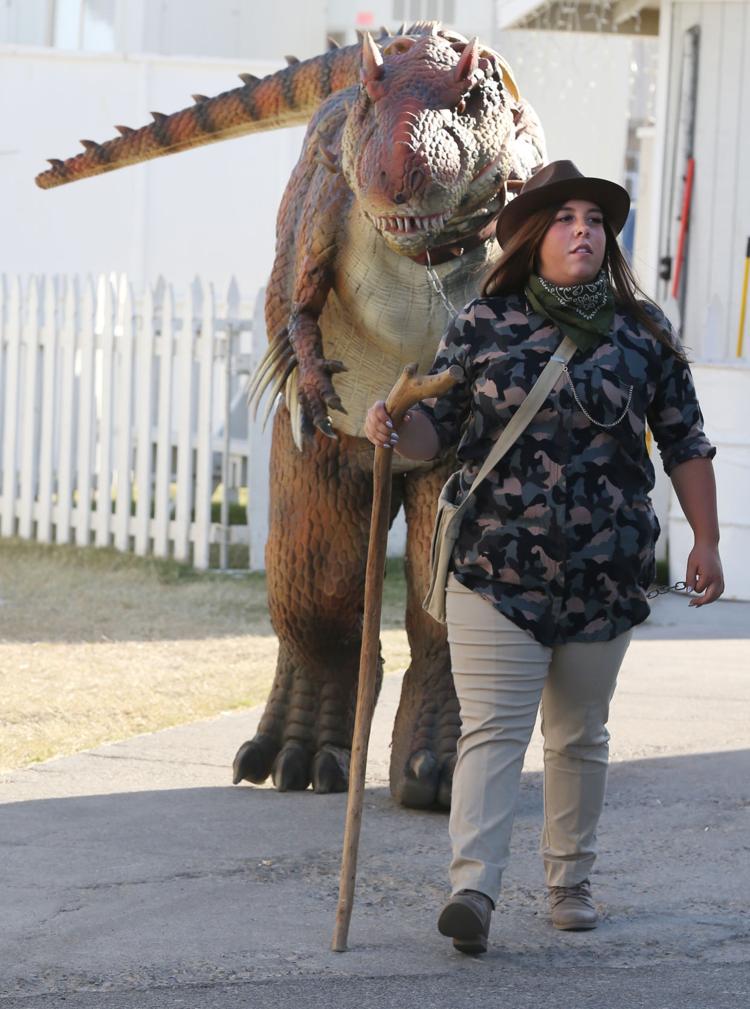 It's the last day of the fair! Here's a rundown of all you can do if you haven't been or want to get one more visit in.
Budweiser Pavilion: Jorge Moreno performs at 6 p.m., and David Lee Garza performs at 8 p.m.
Chinese Acrobats of Heibi, 1, 3 and 5 p.m.
Something Ridiculous (jugglers), 2 and 4 p.m.
The Alley Cats, 6 and 8:30 p.m.
Piano Madness, 7 and 9 p.m.
Powerhouse Percussive Dance, 1:30 and 5 p.m.
Magic of Frank Thurston, 2 and 4 p.m.
Cre and Friends, 3 p.m.
Shataramarie (singer), 4:30 p.m.
Something Ridiculous (jugglers), 5:30 p.m.
Beverly Belles, 6:30, 7:30 and 8:30 p.m.
The Alley Cats A Cappella, 9:30 p.m.
Powerhouse Percussive Dance, 3:30 p.m.
Hans Taekwondo, 4 p.m.
Downtown Dance Arts, 5 p.m.
Powerhouse Percussive Dance, 2:30 p.m.
Magic of Frank Thurston, 3 and 5:30 p.m.
Centre Stage Dance, 4 p.m.
Landen Transmutier and VaLynn Rain, 5 p.m.
Tatu Una Polynesian Dance, 6 p.m.
Kalis Fitness and Performing Hoop Dancers, 7:30 p.m.
Mariachi San Marcos, 5 to 7 p.m.
La Nueva Era, 8 to 10 p.m.
Folklorico Family and Friends, 2 to 3 p.m.
Planet Dance, 1 p.m.
LQ's Performing Arts Center, 3 p.m.
AG Productions, 4 p.m.
Future Shock Prod. Variety Show, 5:30 p.m.
Hypnotist Tina Marie, 7 and 9:30 p.m.
N.O.R. Junior Theater, 8 p.m.
---
THE STORY OF HOW LUCKY GOT SO LUCKY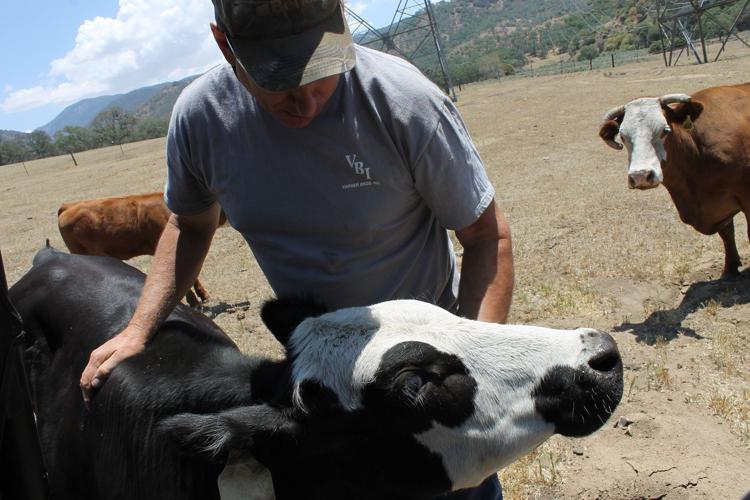 Lucky the cow is a lucky cow. The 5-year-old cow enjoys the festivities of the Kern County Fair without being slaughtered at the end. Instead, he enjoys the leftover popcorn from The Original Karmel Korn booth at the fair. 
Prior to Lucky discovering popcorn, Janet Johnson, Lucky's adopted mother, found him standing in the road by his house with no mother to be found. 
Johnson took him in and bottle-fed him for a few months, but he eventually outgrew the bottle and needed something with a little more sustenance.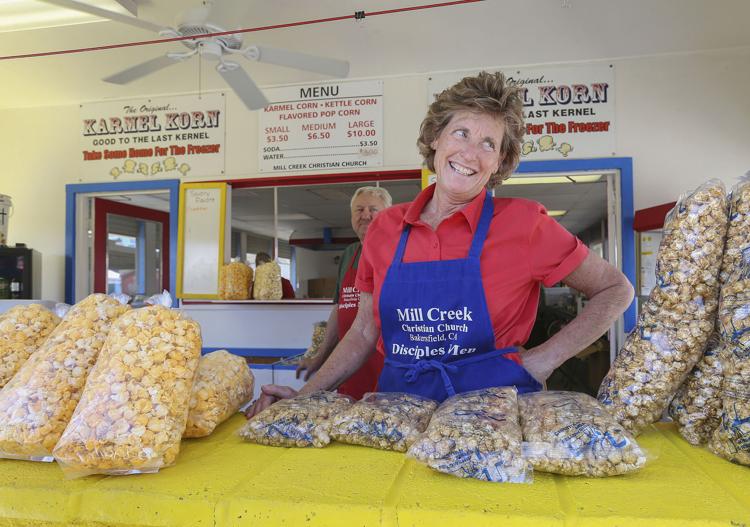 "We didn't have grain, but we had lots of scraps of Karmel Korn because the fair had just ended," Johnson said. "We gave him a little handful of Karmel Korn and he ate it up."
Now, every year when the fair ends and Johnson takes him his popcorn, he runs right up to her to see what flavor she has to offer. 
Lucky, who is now 1,000 pounds, likes all the flavors, except Ghost Pepper, but he's a simple cow and prefers the original recipe or caramel corn.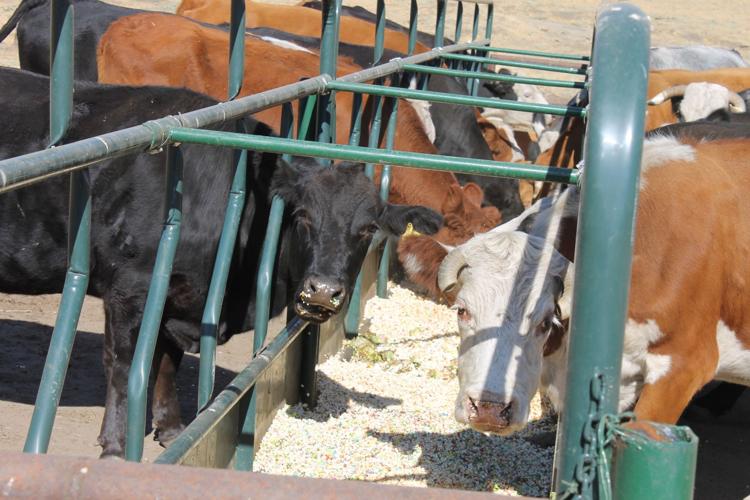 Johnson said Lucky should have been sold four years ago, but "who can resist that face?"
"We call him Lucky because he's the only cow we know that was raised on Karmel Korn," which has been around for 76 years, said Lucky's mom. "If he's extra Lucky, he'll be able to live with us that long and eat Karmel Korn every year during the fair."
---
GET TO KNOW KC THE BULL, THE ULTIMATE KERN COUNTY FAIR MASCOT 
When I think of the Kern County Fair, I always picture KC the Bull. He's the ultimate mascot, bringing joy to so many fairgoers. So I was excited when he agreed to an interview. Take note, all of his favorite fair foods are vegetarian.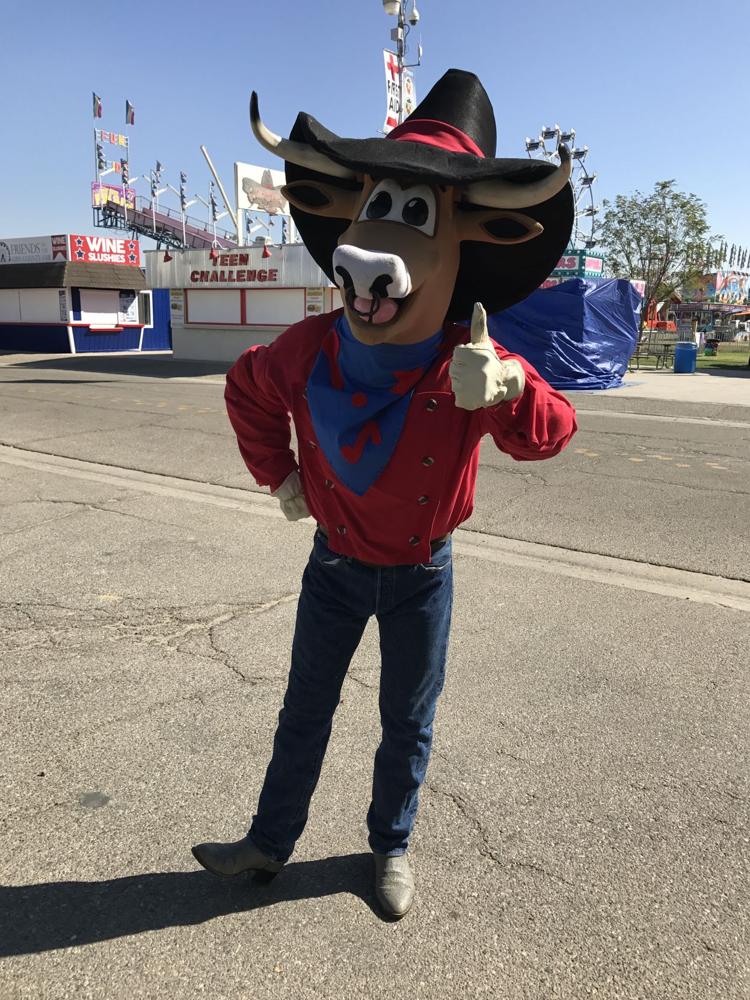 Q: What is your favorite fair food item?
A: KC's favorite food item at the fair is always a giant baked potato from the Boy Scouts and a cinnamon roll. Willamette Valley Pie Company is my very very very best and favorite dessert place Oregon Berry cobbler with ice cream.
Q: What do you look forward to most about the fair?
A: I look forward to seeing the people, the kids, the families. As the mascot of the Kern County Fair I've had the unique opportunity to see children and families over the years up close and the joy that they have and visiting our fair if so rewarding. I can't describe it without clapping my hooves.
Q: Who is the biggest celebrity you've met at the fair?
A: Frank Thurston, he's got to be the greatest magician I've ever seen.
Q: How do you feel about the rodeo?
A: Love. It was a great time. Glad that part of my career is over now though. It was getting a little backbreaking.
A: Lots of hydration and keeping a loving attitude helps.
Q: Have you always had the same outfit?
A: Well if you've noticed over the years I've had quite a few different shirts made for me to celebrate different occasions. We try to mix it up but I'm kind of a cowboy kind of bull. So I'm not looking to change to Dockers anytime soon.
Q: What is your favorite part about this year's fair?
A: So far I got to say the weather has been the most amazing, blessed part about this year and this weekend looks great.
Q: What has been your favorite show this year so far?
A: The best show on the grounds this year is to come and see Something Ridiculous. These guys have a phenomenal show, don't miss them when you're here. I can't get enough of watching them. They make kids laugh, adults laugh, everyone just has a great time.
Q: How long has KC the Bull been around?
A: KC the Bull has been around since 1996 as you see him today. Before that he was a cartoon character on all fours originating back from 1952.
Q: What's the best part about being KC the Bull?
A: The best part about being the mascot for the fair is to truly represent something that means family entertainment and good times for all. Personally KC's heart will swell when a little child smiles at him for the very first time.
---
WHAT'S TO COME 
The Kern County Fair is planning something new in KC's Farm in future fairs.
It would like to create edible gardens. The Kern County Fair wants to provide a facility for local youth to become educated on some of the top commodities in Kern.
The goal is to contribute to a healthy local food system by increasing education, acceptance, cooperation and the production of local food and agriculture. 
And what better place to create an edible garden than the top agriculture producing county in the state?
---
FYI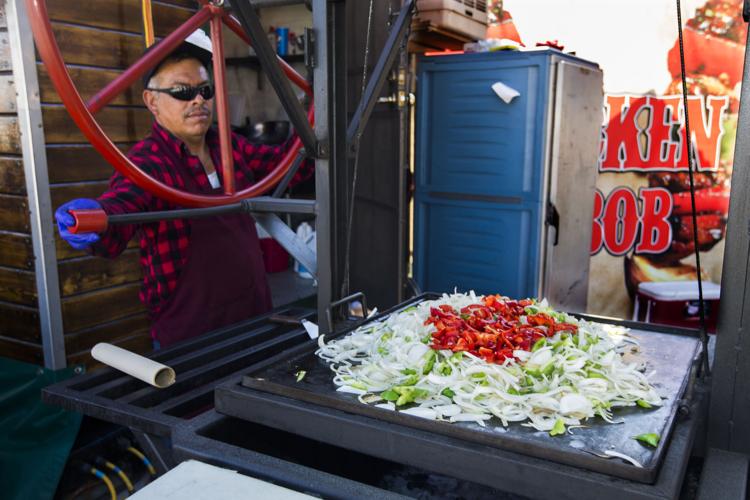 Admission: Adults are $12, children ages 6-12 are $5, children 5 and younger are free, seniors are $9 and active and retired military with ID are free.