MY FRIDAY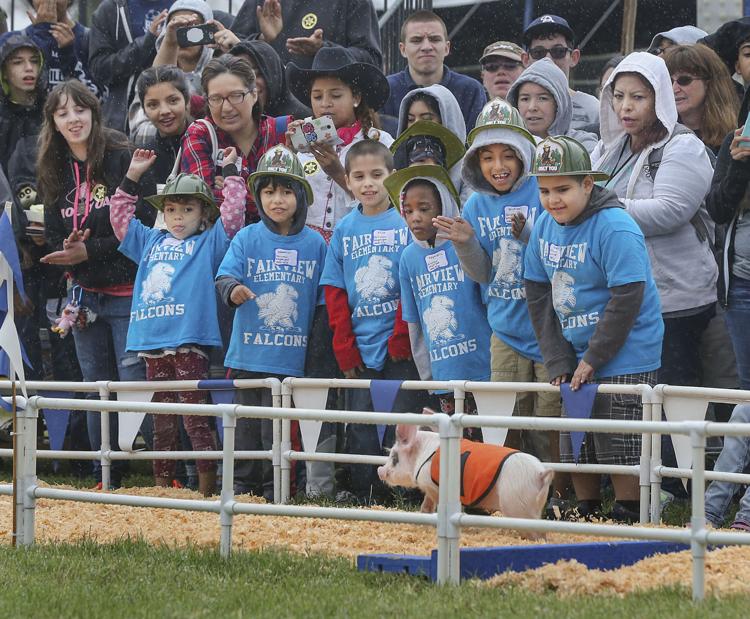 Today is Senior Day, a day when seniors 62 and older get free admission and parking from 9 a.m. to 4 p.m.
Budweiser Pavilion: Sheila E is performing at 8 p.m.
Powerhouse Percussive Dance at 4:30 p.m.
Aztec Dance at 5 p.m.
Hypnotist Tina Marie at 7 and 9:30 p.m.
The Nightwatchers at 8 p.m.
Mariachi San Marcos at 5 p.m.
Atrevido at 8 p.m.
Senior Day program at 9 a.m.
Opening ceremonies at 10 a.m.
Trivia and Give-aways at 11 a.m.
Beverly Belles at noon, 6, 7 and 8 p.m.
Patsy's Oldies but Goodies at 12:30 p.m.
Pierce Family Bluegrass at 3:30 p.m.
Genesis Duncan at 5 p.m.
Magic of Frank Thurston at 5:30 p.m.
The Alley Cats A Coppella at 6:30 p.m. and 7:30 p.m. 
Tim Hurley Band at 9:30 p.m. 
Chinese Acrobats of Heibi at 4, 5 and 6 p.m.
Piano Madness at 7 and 9 p.m.
The Alley Cats at 8:30 p.m.
Magic of Frank Thurston at 4 p.m.
Jammin' Island Hula at 4:30 p.m.
Something Ridiculous at 5:30 and 7:30 p.m.
TLC Dancers at 6 p.m.
Black Gold Cloggers at 7 p.m.
Something Ridiculous at 4 p.m.
KNS Rockstar at 4:30 p.m.
Powerhouse Percussive Dance at 5:30 and 7 p.m.
Dat Krew at 6 p.m.
Carbajal's Martial Arts at 7:30 p.m. 
---
DID YOU KNOW? KERN COUNTY FAIR BY THE NUMBERS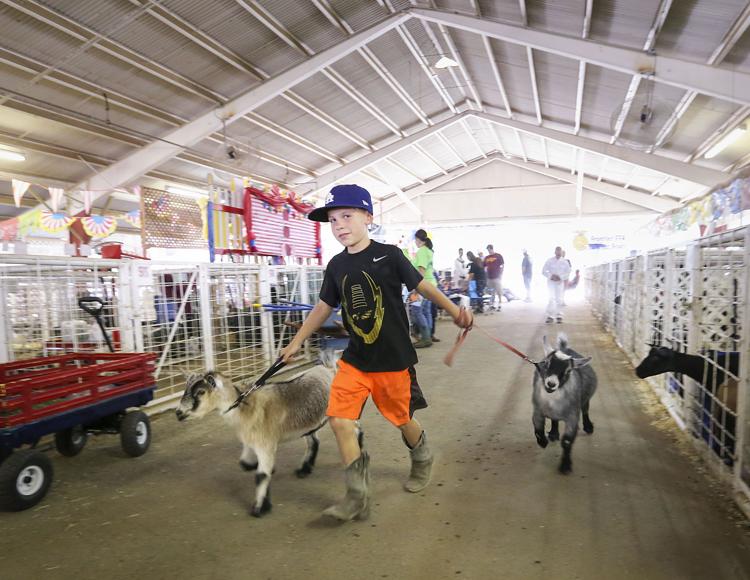 There are 11,000 exhibit entries in this year's fair, all in the various categories, including baked goods, arts, hobbies, collections and more. That's 2,000 more entries than last year's Kern County Fair. 
There are 42 rides at the fair. 
And the Kern County Fair has the largest livestock show of all the 72 fairs in California. This year, there are nearly 3,500 animals. 
---
DEMOLAY CORN DOGS: A FAIR FAVORITE OF MINE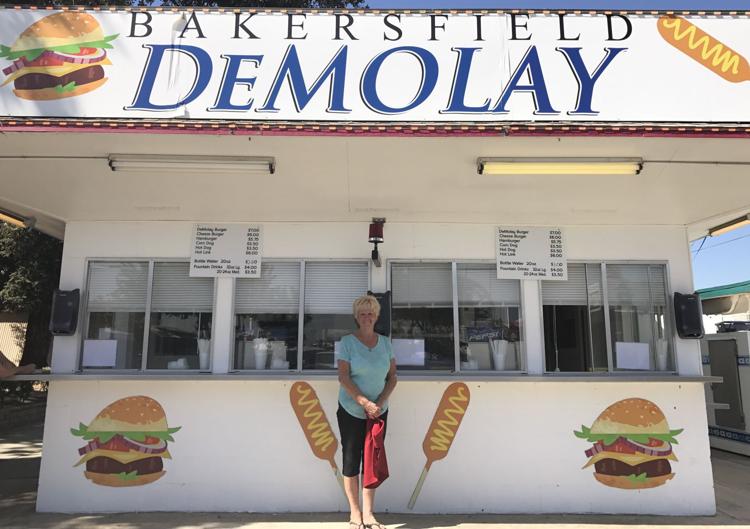 Every year when I go to the Kern County Fair, it is an absolute must that I eat a corn dog, and my favorite booth to purchase one or two or three corn dogs is from DeMolay because it is one of a few booths at the fair that hand-dips their corn dogs. 
My annual corn dog outing got me thinking, how many corn dogs does DeMolay hand-dip daily at the fair? 
Annette Goodwin, a DeMolay volunteer of 23 years, estimates the booth sells 200 corn dogs on a busy day. Goodwin would know, since she does all the prep work from 8:30 a.m. to 3:30 p.m. every day.
DeMolay goes through so many weenies that the volunteers have to place an order for more hot dogs almost every day.
Now, what about the batter?
Goodwin says she loves DeMolay's batter because it has a "sweetness" taste to it. 
"I just want the corn dog batter," she said. 
DeMolay uses nearly 1,000 pounds of batter throughout the duration of the fair's 12 days.
You can purchase a corn dog from DeMolay for $3.50. The proceeds go to local nonprofit DeMolay, which prepares young men to lead successful, happy and productive lives by developing civic awareness, personal responsibility and leadership skills.
---
FAIR MEMORY: PLEASE LET ME SHUT MY PIE HOLE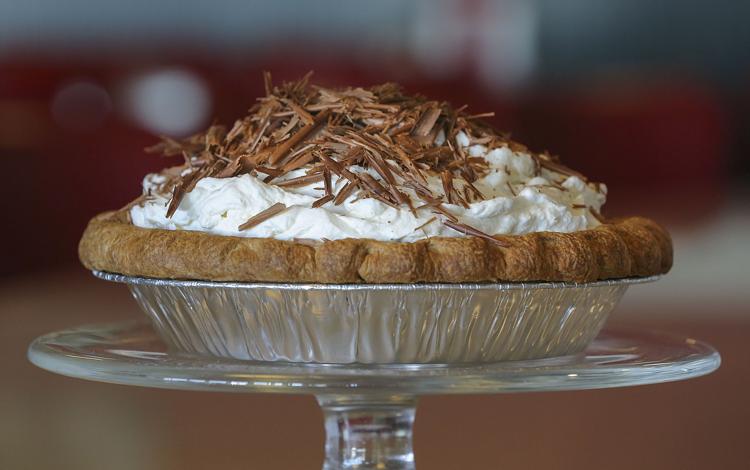 In 2001, Senior Editor Robert Price was asked to judge the annual pie-baking contest at the Kern County Fair, and he happily agreed. That happiness faded when he found out he had to taste 55 pies!
There were pecan pies and peanut butter pies and apple pies and cream pies and fruit pies and so many more. At one point, he and his co-judge felt like they were on an "I Love Lucy" episode.
We asked Price to dig up his column from the event and wanted to share an excerpt with you. Enjoy!
"It sure seemed like a good idea. Eat pie. As much as I want. All kinds. For free.
"Serving as a judge for the Kern County Fair's annual pie-baking contest would not only be a nice, civic-minded gesture, I reasoned, it would allow me to indulge a favorite hobby of mine — gluttony. Sample a few morsels of Americana, bestow some ribbons upon gracious grandmother-types and then go forth into the tattooed night, my sweet tooth satiated. What a misguided innocent I was.
"Pie judging is a brutal, grueling business, ill-suited for the faint of stomach.
"I walked into the Fine Arts building's "baked department" Sunday evening, expecting to see two dozen pies and two dozen Aunt Bea look-alikes hovering proudly over their respective creations. Wrong and wrong.
"Pie bakers come in as many flavors as their pies. The only thing they have in common — other than an apparent love for baking — is the prolific nature of their devotion. 
"When asked if he would do it again, he said, "Hell no! Unless, y'know, they ask me."
---
HOT WEATHER AT THE FAIR THIS YEAR? MAYBE NOT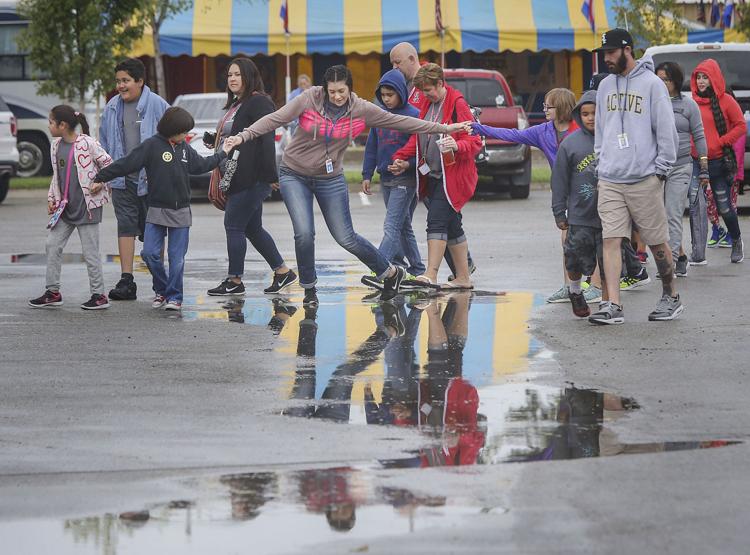 We keep hearing people say it's going to be hot this year at the fair, but weather forecasts say otherwise.
Setting aside Thursday's cloudy skies and rain, the weather is predicted to be nice and cool. According to Google, Friday's high is predicted to be 75, Saturday's is 80 and Sunday's is 84. Temperatures are predicted to heat up a bit throughout the next week, ranging from 88 on Monday to 94 on Thursday. 
So, why are people so set in thinking the weather is always unbearable during the fair? 
Californian staff writer Steven Mayer dispelled the myth last year. He found, contrary to popular perception, temperatures during the annual fair range between about 85 and 88 degrees, with average overnight lows dropping into the mid- to low 60s. 
Despite the facts, people don't forget weather extremes, Cindy Bean, a meteorologist at the National Weather Service's Hanford station, told Mayer last year.
In 2009, the first five days of the Kern County Fair were brutal, starting with a high of 102, then dropping to 99 for two days before popping back up to 101 and then 104.
We're thinking the beer sales may have set a record that year.
---
FYI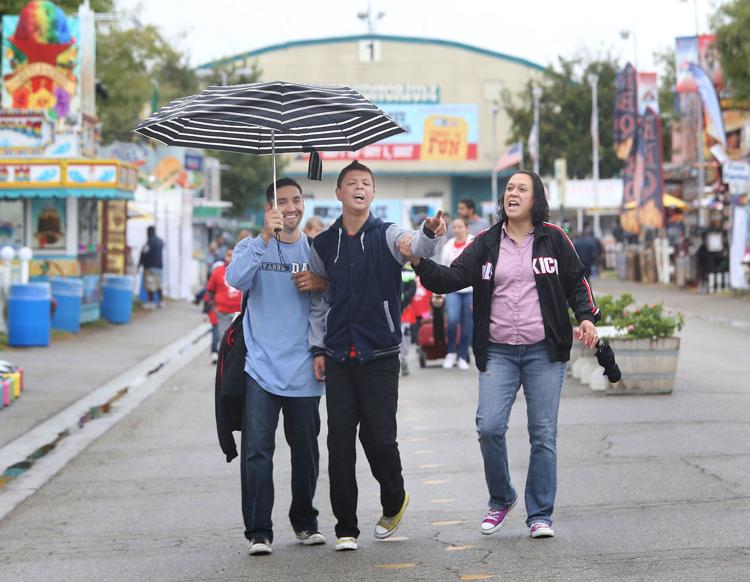 Location: Kern County Fairgrounds, 1142 S. P St.
Opening and closing times: 10:30 a.m. to 11 p.m. 
Adults: $12
Ages 6-12: $5
Ages 5 and under: Free
Seniors free today
Active and retired military with ID: Free