MY TUESDAY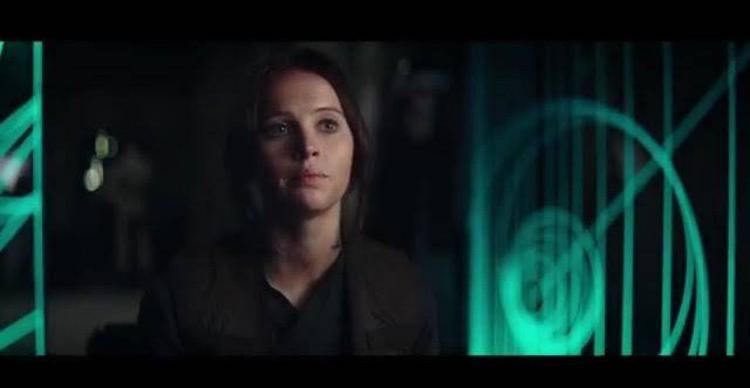 To support: Join Chili's in supporting Kern County Animal Services. From 11 a.m. to 10:30 p.m., Chili's Grill & Bar, 8950 Rosedale Highway, will donate 20 percent of the proceeds from your order, but you must mention the event or show the flyer on Kern County Animal Shelter's Facebook page. The fundraiser ends July 20. 
To watch: Edwards Bakersfield, 9000 Ming Ave., shows children's movies every Tuesday and Wednesday throughout the summer. Today, "The SpongeBob Movie: Sponge Out of Water" and "The Adventures of Tintin" are showing at 10 a.m. Admission is just $1. Both movies will also be shown Wednesday at the same time.  
To watch, part 2: "Rogue One" hits Netflix today. The movie, part of the "Star Wars" franchise, is about the Rebel Alliance trying to steal the plans for the Death Star.
To dance: Temblor Brewing, 3200 Buck Owens Blvd., hosts line dancing lessons every Tuesday at 6:30 p.m. Admission is just $5. 
To drink: It's Tito's Tuesday at Wiki's Wine Dive and Grill, 11350 Ming Ave., #260. All Tito's well drinks are $5 from 3 p.m. to close.
DRESS TO IMPRESS, ONLY WHEN THERE'S A CAMERA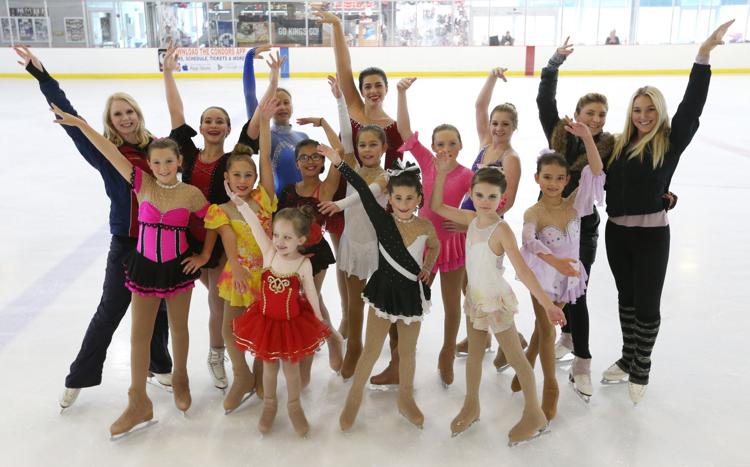 Even at 10 o'clock in the morning, it felt great to walk out of mid-90-degree heat and into the Bakersfield Ice Center last week. The place could probably charge admission just for the blast of cold air.
But it didn't take long for me to start to feel cold after a few minutes watching Bakersfield's young crop of figure skaters (yes, such a thing exists). So as I watched in awe at 6-year-olds doing pirouettes and 16-year-olds defying gravity, I was just as impressed by their ability to do it in the short sleeves and skirts that comprise their costumes.
"Do they always practice in costume?" I wondered. "And how do hockey players need sweaters if figure skaters are waltzing around in those?"
I got my answer a couple of minutes later, when our photographer, Felix Adamo, left. Within minutes, three girls came over to the side of the rink to ask for their jackets.
Turns out figure skaters know how to put on a show, in more ways than one, and there was no way they were going to let Felix take their photos for the newspaper without dressing for the occasion.
STAFF PHOTO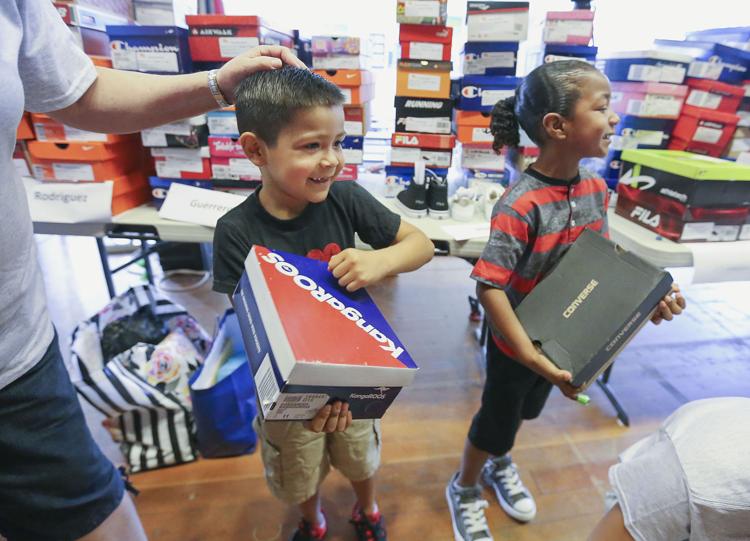 All the kids were excited to get a new pair of shoes. Some, though, were more excited than others. Roosevelt Elementary School children in Transitional Kindergarten Danny Sandoval, left, and Irahan Avila appear to be excited to receive a brand new pair of shoes purchased by DaVita teammates. DaVita Dialysis employees donated shoes for more than 1,200 children ages 5-10 to children from Roosevelt and Pauly schools.
DID YOU KNOW?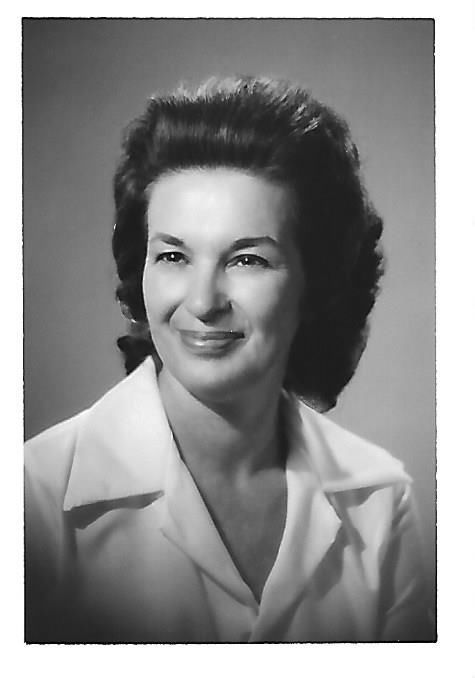 There have been plenty of women who have made a name for themselves in Kern County. Here's a little history of the women of Kern. 
On Oct. 10, 1911, California passed women's suffrage. Four days later, Sybil Chenoweth became the first woman to register to vote in Kern County.
Fast forward six years and Katherine Stinson became the first woman pilot to fly over Kern on a non-stop flight from San Diego to San Francisco on Dec. 11, 1917.
In 1919, Grace Storey Dorris became the first woman elected to the California State Assembly by Kern County voters, and Mary Holman was appointed the first Bakersfield Police Department policewoman in 1941.
In July of 1942, Kern's first Women's Army Auxiliary Corps recruit, Dorothy Beardsley Johnson, was accepted, and on May 18, 1953, Jacqueline Cochrane became the first woman to exceed the speed of sound while flying an F-86 at Edwards Air Force Base.
In 1966, Bakersfield native Elizabeth Borton de Trevino won the Newbury Medal for children's literature for her book "I, Juan de Pareja."
The girl power continued to 1980 when Mary K. Shell became the first woman elected mayor of Bakersfield, and in 1983 when Pauline Larwood became the first woman to serve on the Kern County Board os Supervisors.
And finally in 1994, Irma Carson became the first African-American woman elected to the Bakersfield City Council, representing Ward 1.
SAY WHAT?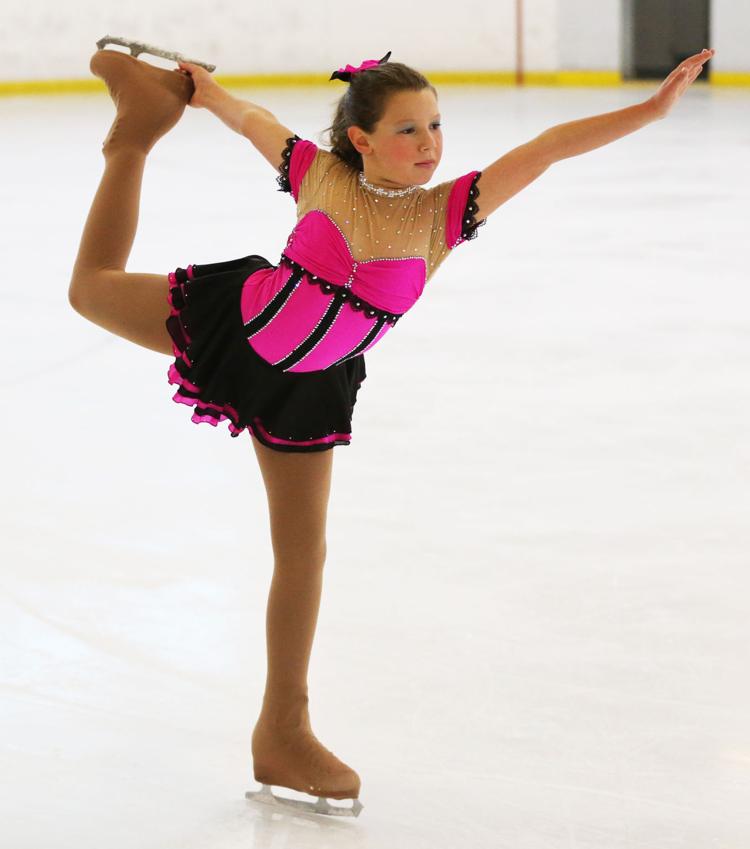 "Sometimes I'll dream about being at the Olympics, but mostly I like just dreaming about how fun it is."
— Reece Yaksitch, who qualified to skate at the State Games of America next month in Grand Rapids, Mich. She's also just one of 16 local skaters who are competing at the World Recreational Team Championships in Anaheim this week.