MY SATURDAY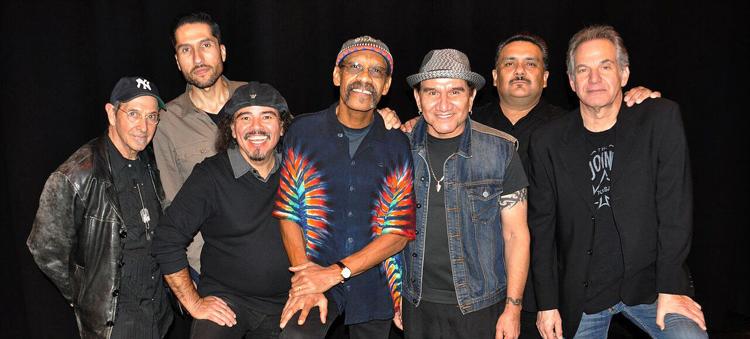 Budweiser Pavilion: War performs at 8 p.m.
Creation at 2:30 p.m.
Grupo Folklorico Escuelas Unidas at 3:30 p.m.
PennPoint Dance Academy at 5 p.m.
Hypnotist Tina Marie at 7 p.m. and 9:30 p.m.
Lions Named Leo at 8 p.m.
Mike Y Su Furia Costena at 5 p.m. 
Amor Y Llanto at 8 p.m.
Folklorico Family and Friends at 2 p.m.
Ballet Folklorico Mi Tierra at 3:15 p.m. 
Magic of Frank Thurston at 2 p.m. and 3:30 p.m.
Powerhouse Percussive Dance at 2:30 p.m. 
Polynesian Spice at 4 p.m.
Jazzercise at 5 p.m.
Beverly Belles at 6 p.m., 7 p.m. and 8 p.m.
The Alley Cats A Cappella at 7:30 p.m.
Rockabilly Rebels at 9:30 p.m. 
Chinese Acrobats of Heibi at 1 p.m., 3 p.m. and 5 p.m.
Something Ridiculous at 2 p.m. and 4 p.m.
The Alley Cats at 6 p.m. and 8:30 p.m.
Piano Madness at 7 p.m. and 9 p.m.
Johnny C. at 3 p.m.
Barbara Heard Miller at 4 p.m.
Alissah Lopez at 5:30 p.m.
Powerhouse Percussive Dance at 6 p.m.
Jessica Rose and Elijah Gilbert at 6:30 p.m. 
Experience Dance at 1:30 p.m.
Chaz Wilson at 3 p.m.
Powerhouse Percussive Dance at 4 p.m.
Paul Ray, Truth Soldiers at 4:30 p.m.
Ballet Folklorico Mi Tierra at 6 p.m.
Something Ridiculous at 7:30 p.m. 
---
POPCORN GALORE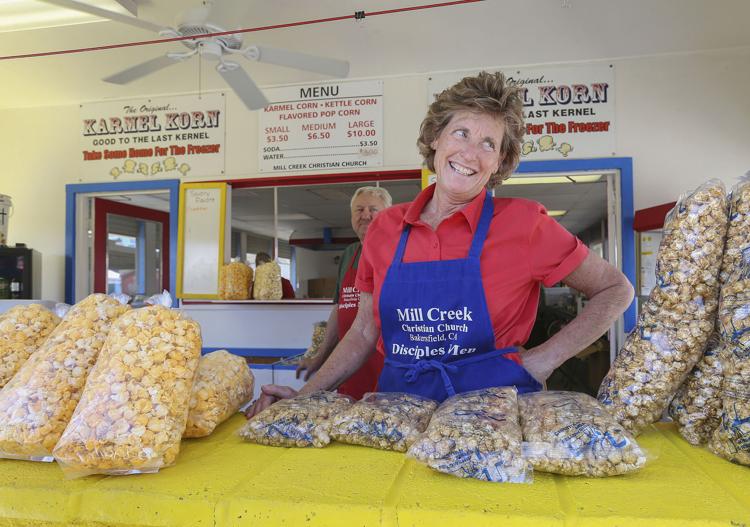 At The Original Karmel Korn booth, Janet Johnson and Mark Jones, with help from a few other volunteers, were poppin' popcorn and bagging it up fast just hours before the Kern County Fair opened Wednesday.
But the popcorn didn't smell like your average caramel corn. It smelled like French bread and green apple.
That's what makes Mill Creek Christian Church's fair booth so special.
Throughout the booth's 76-year existence, there have been various creations, and this year, the popcorn cooks are poppin' up about 25 flavors, including various versions of kettle corn. 
"It's one of the healthiest things out here," said Johnson.
The Original Karmel Korn is most famous for its wild flavors, some including sugar cookie, bacon, French bread, banana, dill pickle, Wasabi Soy Ranch and more. (For more detail, check out Stefani Dias' "The Dish" column in Sunday Eye Street.)
Where do all these wild flavors come from? 
Jones is the one who concocts the recipes by strolling down the potato chip aisle looking for flavor inspiration. 
"He's the one who came up with all these bizarre-o flavors," Johnson said.
Jones tests out all of his flavors, and sometimes they just don't make the cut. Jones and Johnson said there have been flavors that were tossed, like the Five Chinese Spice flavor.
If you're feeling adventurous, head on over to The Original Karmel Korn for some wild flavors. A small bag is $3.50, medium is $6.50 and a large is $7. 
---
OUR KIND OF PEOPLE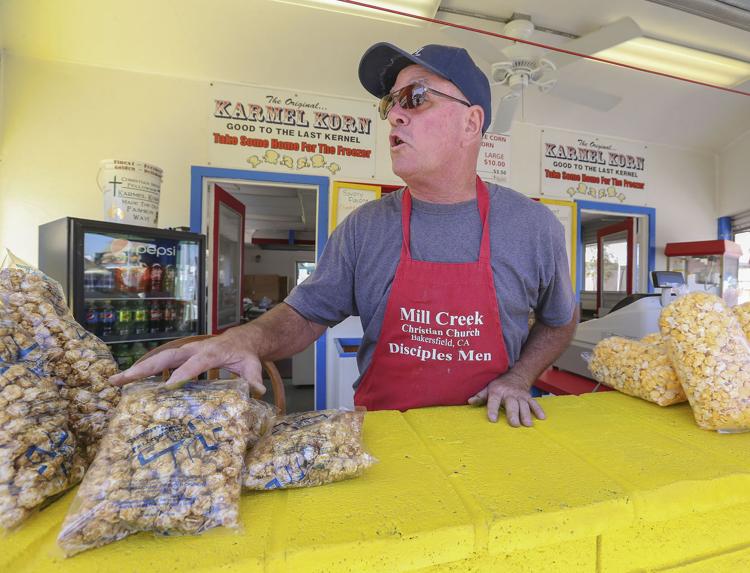 Speaking of The Original Karmel Korn fair booth, Mark Jones could be sipping on a Mai Tai in Hawaii, but instead, he spends his time off raising money at the Kern County Fair.
Jones has been volunteering at the The Original Karmel Korn booth for years, and every year he has volunteered, he uses his vacation time. He takes two weeks off of work to volunteer at the booth because he knows it helps the community.
Mill Creek Christian Church takes charge of the stand and raises money at the fair every year to give away to charities.
Jones said every year, the booth raises about $20,000, and the church donates it to local charities such as the Boys and Girls Club, CASA and the Ronald McDonald House, and a small portion of the money is donated to charities out of town.
---
ROAD TO THE FAIR KARAOKE FINALS
This Monday at the Kern County Fair will be the finals of the summer-long karaoke competition. Twelve contestants will take Frontier Stage to see who is Kern County's male and female vocalists of the year. 
The contestants underwent five weeks of open competition, a week of semi-finals and now the finals.
At 7 p.m., the singers will take the stage with the best Bakersfield has to offer. 
---
FAVORITE FAIR PHOTOS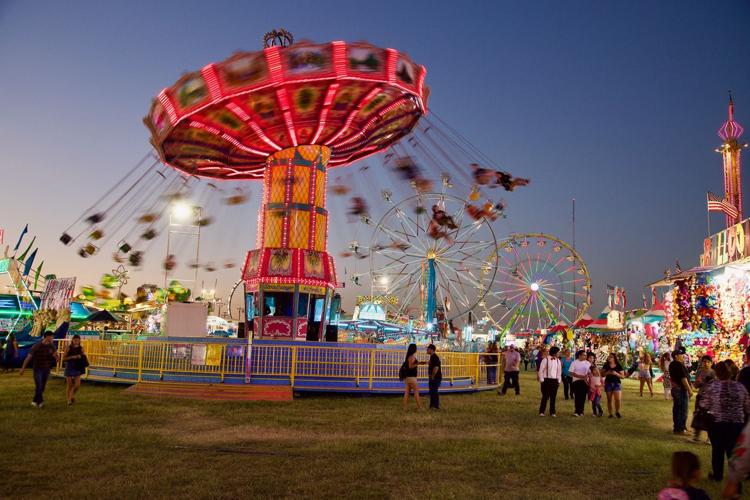 Michael Renzi went to the fair on the opening day Wednesday and took this photo of the carnival rides. He said the photo is one of his favorites from opening night.
TBC wants to see your photos from the Kern County Fair. They can be from this year or a previous year. They can even be the strip of photos you took at the fair photo booth. Send your images with a detailed caption to photos@bakersfield.com. We will compile them into a photo gallery online and try our best to print them in the paper.
---
FYI
Location: Kern County Fairgrounds, 1142 S. P St.
Opening and closing times: Noon to 11 p.m. 
Adults: $12
Ages 6-12: $5
Ages 5 and under: Free
Active and retired military with ID: Free