In 2011, the last big water year on the Kern River, its flows claimed 15 lives.
Young. Old. Strong. Well-educated. Brave. Funny.
They got in. They didn't come out.
A Californian analysis of several years of data leading up to 2011 showed the more water in the river, the more people who drown.
And 2017 is going to be just as big as 2011 — if not bigger.
There is one message people should take from those facts, say the people whose job it is to rescue people from the Kern.
FLOWS
Kern River Watermaster Dana Munn said the most recent estimates show the Kern River watershed has 247 percent of its normal snowpack.
In 2011, it was just more than 200 percent.
The lower river's flows will peak in late June or early July at 4,750 cubic feet per second, or maybe higher, he said.
And that will mean the river will shoot through the Kern River Canyon with crushing force.
A 5-foot drop through a 1-cubic-foot gap can exert 300 pounds of force on a body, he said.
That can turn every twist, hollow or bunch of brush into a fatal trap for swimmers and boaters.
"That portion of the canyon is unsafe at any level," Munn said. "The problem with high water years is now you have velocity that pushes into those traps."
The solution is easy and obvious.
"Don't play in the river," Munn said. "Folks see the beauty but they don't see the danger."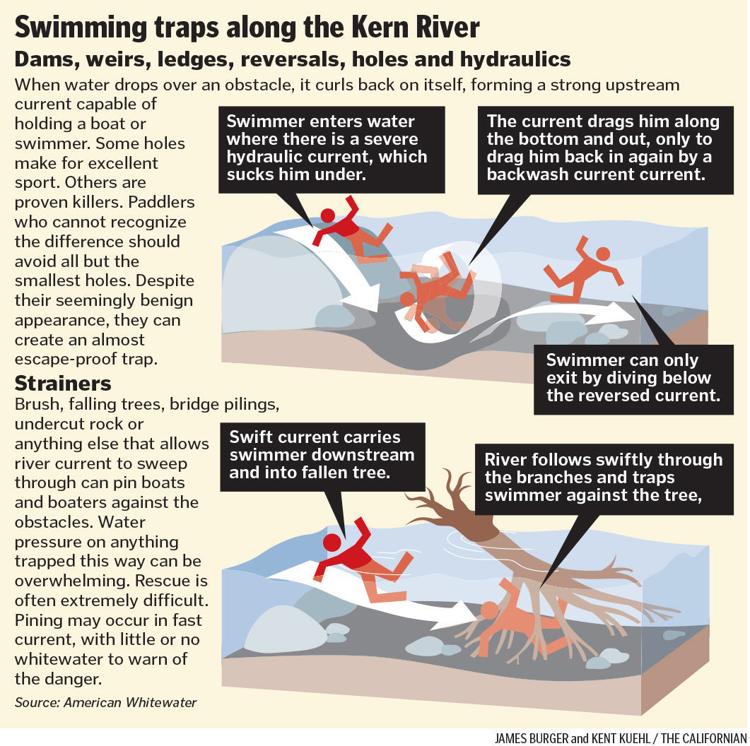 RESCUERS
But people won't stay out.
They'll travel from Bakersfield, North Hollywood, Monrovia, Newbury Park and Arroyo Grande to the Kern River to swim, splash and camp.
They will bring their Wal-Mart inner tubes, their six-packs of beer and their children.
And, if statistics hold true, they will get swept away by the waters of the Kern River.
If they're lucky, they'll keep their heads and make it to a tree or rock.
That's when a large force of Bakersfield firefighters, Kern County sheriff's deputies and passionate volunteers will be dispatched to rescue them.
If they're not lucky, the same group of people will be dispatched to search for them while their family waits in limbo for days, weeks or months to learn what happened to them.
John Frando, public information officer for the Bakersfield Fire Department, said the department's search and rescue team has already saved people from the river.
And they are training hard to do it again.
"We have never seen the water levels this high and this strong," Frando said. "Water levels are 10 times what they were last year. We should have significant water through October."
All that water is hiding a ton of dangerous rocks, trees and brush that serve as "strainers" — places against which the powerful flow of water can trap a body below the surface.
"If people go in the water, they are taking a very big risk this year," Frando said. "If you're getting in the water, it should be with a professional guide."
While many commercial rafting companies ply the river, taking thousands of trips each season, only one passenger has died on the Kern in the past decade.
While there are good and bad ways to ride down the river — it's good to lie on your back with your feet facing down river and tuck your body in tight — none of the good ways can ensure a swimmer will survive to exit the river, Frando said.
"My advice to them is to stay out of the water," he said.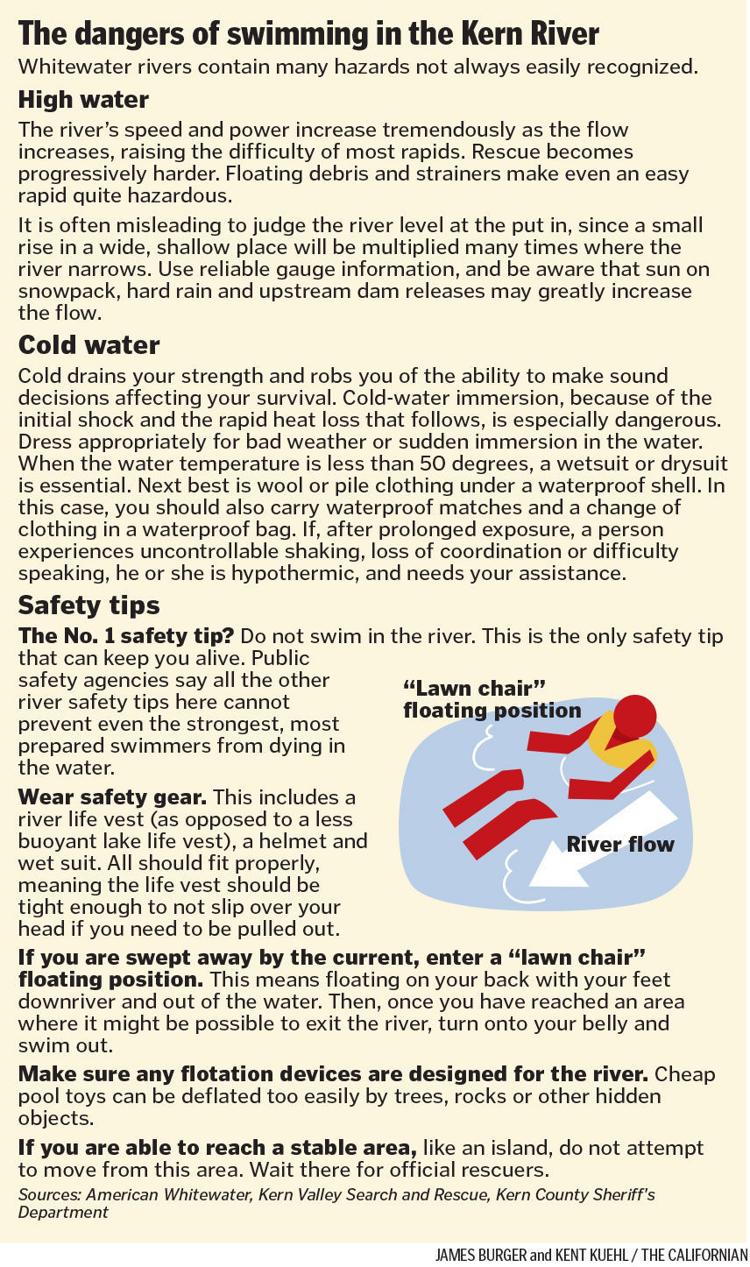 NEDU
Nnanedu Odeluga decided to head to the Kern River with three friends after they got out of summer school classes in July 2015.
He was a smart, creative teen with parents who didn't take their children to the river.
But "Nedu" went up the Kern River Canyon that day. He jumped into a pool from a boulder, got caught in a vortex, and drowned.
It happened fast and his friends, who tried to rescue him, weren't stronger than the river.
His mother, Nneka Odeluga, is still passionate about making sure people learn from her loss.
She is pushing to get more warning signs posted in the river, telling people to stay out and live.
"The water may look calm, may look inviting, but it's very, very dangerous," Odeluga said Friday. "The three-falls area where my son died, nobody should be going there at all."
Her family, she said, has made it through the unspeakable loss through the grace of God.
But no other family should have to face what it has.
"I feel like I want to go out there and stand there and tell anybody who is trying to get in to stop," she said. "If it would keep one person from going in there" it would be worth it.